Share your story
Posted: 23/08/2020
Aija`s story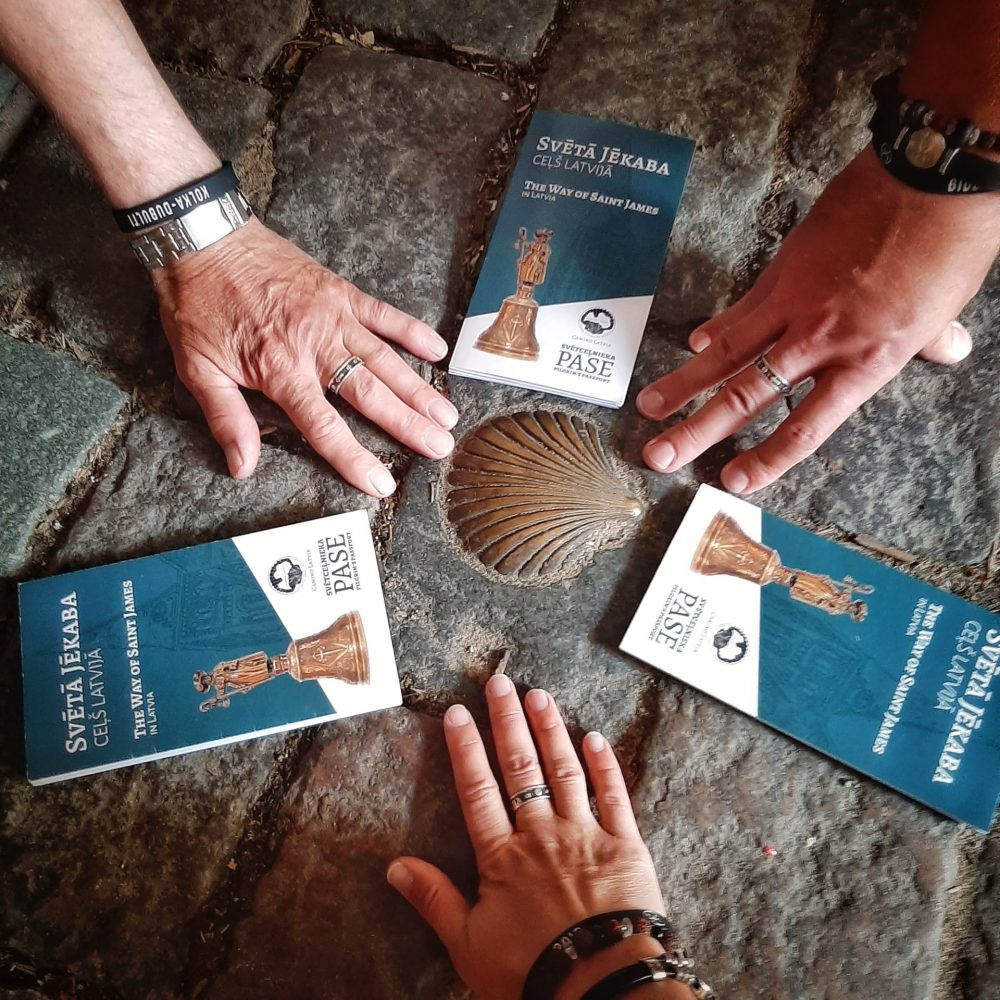 The Way to the Way
I became acquainted with Camino gradually. Some movie seen a while ago, stories of adventures heard from different people ‒‒ all of this resulted in long, but fruitless speculations about what this kind of a trip would be like if I were to go on it myself. There were many reasons for doubt ‒‒ fear of going alone, no potential companions in sight, the remarkable expenses, no way of getting a vacation long enough… Until the beginning of the year 2017 when all the pieces of the puzzle suddenly came together. I was able to get my travelling companion, the funds and even the seemingly impossible month long vacation from work.
And so, in July of 2017, together with a friend I've only known for a couple months I was standing in Saint-Jean-Pied-De-Port, the place where the French Way, the most famous route of the Camino de Santiago, begins. I am carrying a backpack decorated with a shell (the symbol of St James), and I feel an internal struggle between excitement and anxiety about what's to come. And there was everything! Heat and rain, magnificent cathedrals and huts made of adobe, improvised folk songs and tears, hills and fields without end, magical sunrises, a stream of wine, Midsummer's celebration on the Way and even a broken toe.
After 26 days and almost 900 kilometers until Santiago de Compostela and further until Cape Finisterre, after all of the adventures, emotional experiences and unbelievable wonders of the Way, I returned home… I wouldn't say I returned as a different person, but I did notice some changes within myself. The Way was now intertwined with my heart.
In 2018, with some experience already under my belt, I walked the final 120 kilometers of the Portuguese Way from A Ramallosa, Nigran. This trip was special, because this time I was travelling with my father, who was at that time 72 years old. I can give special thanks to my parents for inspiring the passion for nature and travel in me as well as teaching me the ability to see the beauty even in the tiniest forms of nature. I was now given the chance to share this experience with one of my parents, the chance to gift this adventure to him and show my gratitude. And it was a peaceful, beautiful and heart-warming trip.
Camino Latvia
The year 2019 came with the assumption that the Camino Way will not happen. Although this was slightly sad, it was my decision ‒‒ I had new goals and challenges and I knew that it was impossible to do absolutely everything. Little did I know that the Way had its own plans and it was not ready to let me go just yet. At some point in the beginning of the year I noticed a post on Facebook that stated that Camino de Santiago will be organized in Latvia and all those who are interested in the event are invited to participate. Such an opportunity ‒‒ simply out of the blue! Though, I was contemplating whether to attend as late as an hour before the event. The event would probably be full of smart, capable and bright people (as to my mind only these kinds of people could come around to realizing such an idea)… What on earth would I be doing there? I don't possess any special skills, I won't be useful. But the Way was persistent and I answered its calling. And I do not regret it one bit.
After one and a half years the 132 kilometers long Camino Latvia route Riga‒‒Žagare was ready. The stages Valka‒‒Riga and Riga‒‒Skaistkalne were in process. I was truly surrounded with clever and capable people who shared my passion for the Way and this idea. It is a wonderful feeling to be one of such a commune, to gain new experiences, to share the joyful moments as well as face difficulties which, of course, also tend to occur. And it turned out I did have the necessary skills for the organizational process! Fore example, the ability to use the GPX tracking and maps – both of which I still try to perfect.
And so, after a year of work, July of 2020 came. The three pilgrims ‒‒ me, my friend and my father ‒‒ were once again standing on the Way, this time right next to the St James's cathedral in Old Riga and we were ready to make it all the way from Riga to Žagare in six days. I had the same backpack with shell on my shoulders, but this time I felt peaceful and confident that everything happens the way it is supposed to. I noticed a bronze shell embedded in the pavement next to the St James's cathedral and it was another sign that these feelings should be trusted.
The Route and the Marking
The year and a half was not at all wasted ‒‒ detailed descriptions of each of the stages of the route as well as tracking in an easy-to-use GPX format that can be downloaded for your smartphone can be found on our webpage caminolatvia.com. On the way I consulted both the tracking and the route descriptions and was pleased to see that this information matched the scenery. One of the special characteristics of Camino are the road markings in the form of yellow arrows and shells that guide the pilgrims to Santiago de Compostela. It has been a lot of work to recreate something like this here, in Latvia. Here the markings differ depending on the compromises made with the responsible local authorities and institutions. The Camino Latvia road markings include wooden posts with shell and arrow signs, self-made bird cages with marks on them, humble stickers and even plain yellow ribbons. Even though the markings are not as bright and striking as those in Spain or even Lithuania, but the person who is on the way will find everything he is looking for. I also wanted to mention that the road surfaces and sceneries are quite diverse throughout the Way. Camino Latvia can be recommended to anyone who has the opinion that Latvia is just a small, boring land with nothing to see. After a couple of days the Way might change your mind.
On Where to Spend the Night
There are six stages that make up the Way from Riga to Žagare, which means six different places of accommodation. My opinion may be subjective due to the exhaustion at the end of the day, but I felt like all of them were great, each in their own way. We slept in comfortable beds, on mattresses on the floor of a sauna house, in a dorm type hotel, in a cabin on a campsite, but in each place the owners were very kind, the much needed hot showers were available and in some places even some snacks were prepared by the owners. I have especially fond memories of two of the accommodation places, firstly, "Tīreļu Stallis", where we enjoyed a restaurant level dinner and breakfast and also the bright and lovely "Albergue Livberze" ‒‒ the first real Latvian albergue whose owner had arranged everything according to the needs of a pilgrim, as she had walked all of the Spanish Ways herself. The main thing to keep in mind is timely reservations. In Spain a traveler can find accommodation at almost any point of the Way due to the fact that there the tourism infrastructure has been developed for many years now, but in Latvia you have to remember that places of accommodation are not that many and they might be occupied. The known and trusted options for accommodation can be found on the Camino Latvia webpage, therefore, by handling this beforehand, you ensure that there will be no worries about a good night's rest on the Way.
Spiritual experience
What makes the Way of St James or the Camino de Santiago significantly different from similar routes is the rich historical and spiritual heritage. There is no demand that a traveler should be christened beforehand, spirituality simply surrounds you like the air you breathe and is all around. My experience on the Camino Way, first as a tourist without any religious experience, has truly enriched me spiritually and has given me a different point of view. And this process continues. In Spain, which is a very religious country, this aspect of the Way cannot be ignored, but even in Latvia, where religion is mostly a private matter, spirituality has a significant meaning.
While on our Camino Latvia trip, we visited a Dominican sister of Bethany at the convent of St Joseph and multiple churches including the Bērze Lutheran church by previously arranging meetings with the church superiors. This has been a surprisingly fascinating experience. And the realization that a nunnery is not in fact a place filled with quiet, gloomy looking beings dressed in black ‒‒ in reality you are greeted by smiling, hospitable sisters who explain both practical and spiritual matters with much love and a sense of humor. In many farther corners of the country the church is the place where active and enthusiastic people gather and work together to make sure that their surroundings do not just slowly disappear. It is easy to rush by a church, but I encourage you to enter, rest for a while, and it is quite possible that you could gain something more from the experience.
What are my tips for those who only prepare to go on the Way? To not expect miracles, to not expect specific changes and revelations, but simply to put on a pair of comfortable shoes, take your bag and go. The Way will decide what you need and provide it. Just be ready to accept it, be open-minded and do not refuse the gifts that the Way gives to you no matter what they are.
Buen Camino!
Greetings,  Aija